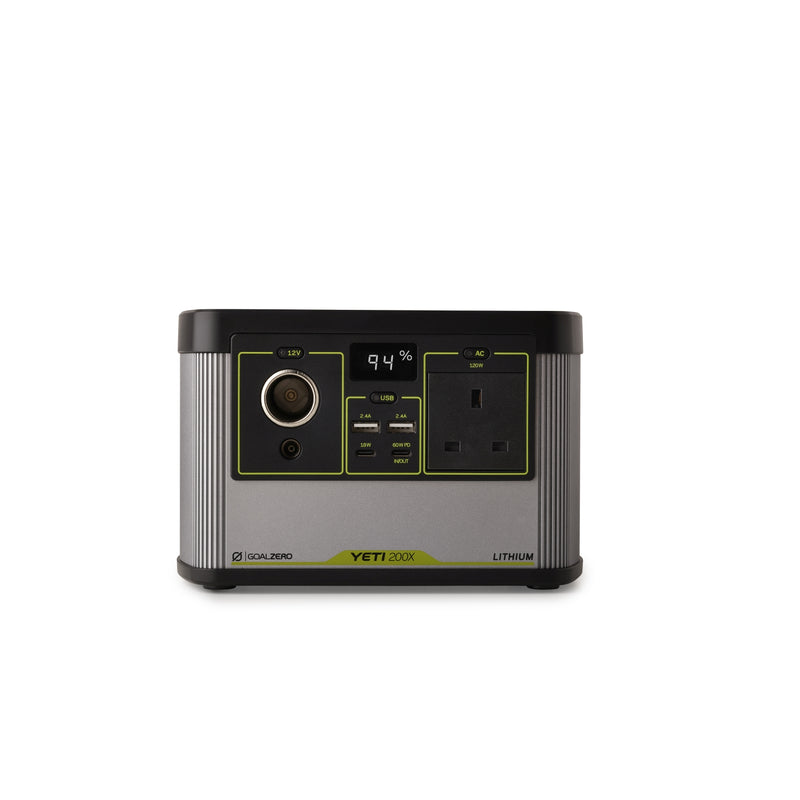 Yeti 200x

Highlights
Compact, Lightweight Power Station : The Yeti 200X Power Station delivers high-quality lithium power you can rely on, housed in an ultra-portable design made to take anywhere. Yeti 200X is one of the most lightweight power stations on the market and the lightest Goal Zero Yeti to date.
High-Speed Charging Solution : Equipped with the latest charging technology, including a high-speed Power Delivery port capable of charging USB-C laptops, tablets, mirrorless cameras, and phones in a fraction of the time.
Solar Ready : Charge the Yeti 200X from the sun with our portable solar panels while away from the grid and keep it topped off from a wall outlet when you're home.
Tech Specs
Charge Times
Maximum input: 2 Hours
Wall Charger: 4 Hours
Nomad 20: 12-24 Hours
Nomad 50: 5-10 Hours
Boulder 50: 5-10 Hours
Nomad 100: 2.5-5 Hours
Ports
USB-A port (output): 5V, up to 2.4A (12W max), regulated
USB-C port (output): 5-12V, up to 3A (18W max), regulated
USB PD port (input/output): 5-20V, up to 3A (60W max), regulated
6mm port (output): 12V, up to 10A (120W max)
12V car port (output): 12V, up to 10A (120W max) regulated
AC Inverter (output, modified sine wave): 230VAC, 60hZ, 1A (120W, 200W surge)
Charging port (input,8mm): 13-22V, up to 7A (100W max), regulated
*High Power Port (HPP) is compatible with Anderson Power Port™".
Battery Details
Cell Chemistry: Li-ion NMC
Peak Capacity: 187Wh (14.4V, up to 13Ah)
Lifecycles: 500 cycles to 80% (discharge rate: 1C, full charge/discharge, Temp 25C)
Shelf-life: Keep plugged in, or charge every 3-6 months
Management system: MPPT charge controller, low battery protection
General
Product SKU: 22070
Chainable: No
Weight: 5 lbs (2.27 kg)
Dimensions 7.9 x 5.1 x 5.1 in (20 x 13 x 13 cm)
Operating Usage Temp: 32-104F (0-40C)
Warranty: 24 Months