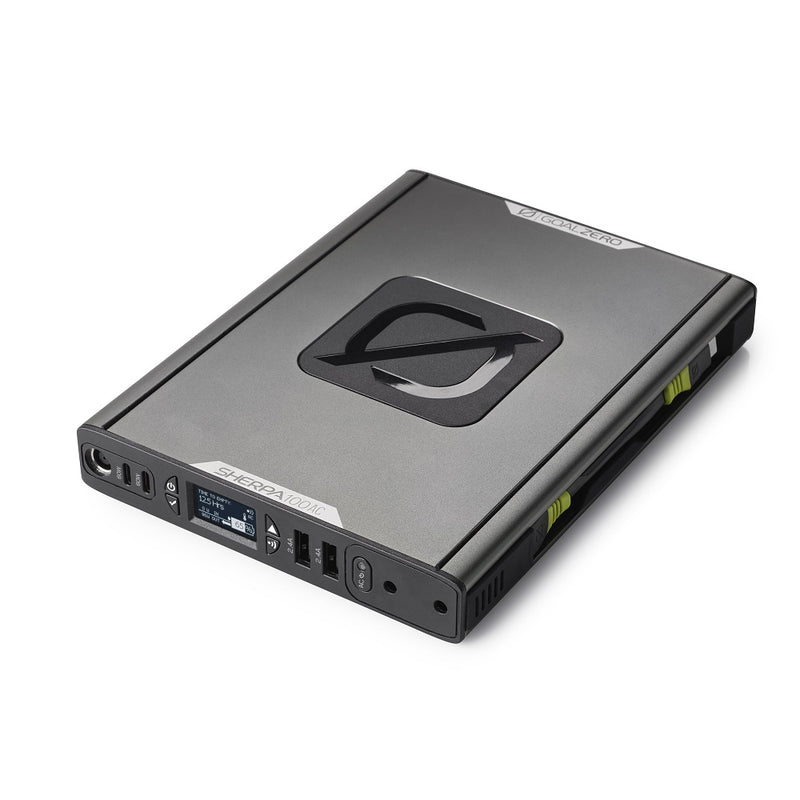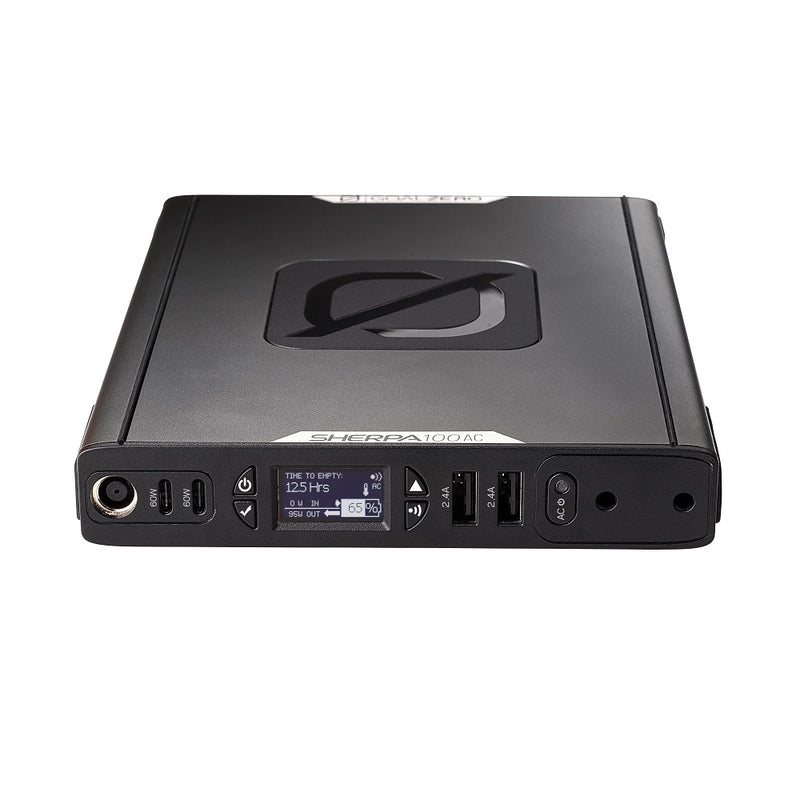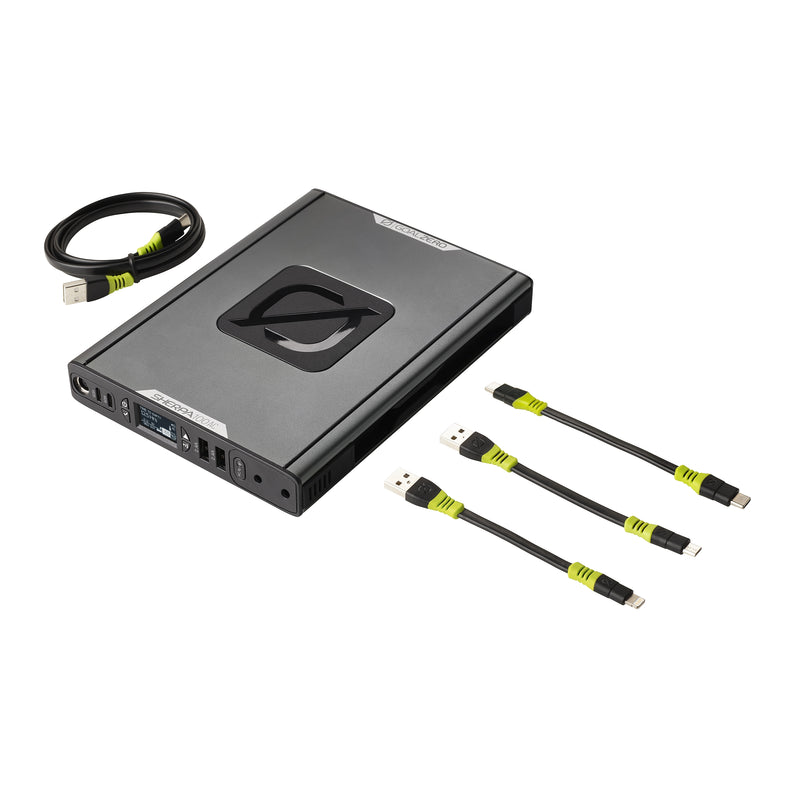 Sherpa 100AC

Highlights
Two High-Speed Power Delivery Ports
At 60W each, these USB-C Power Delivery ports provide rapid power for laptops, phones, and more.

Integrated 100W AC
Take the outlet with you, on the plane or in the wild, for serious power anywhere you need it. Perfect for keeping cameras and laptops charged.

Qi Wireless Charging + 2.4A USB
No matter the phone, there's a wicked fast, convenient charging solution designed for you. Charge your iPhone and use your headphones at the same time on long flights using Qi wireless charging.

Interactive OLED Display
Check power in and power out, get detailed port information, and even set roles for ports.

Four Rugged Cables Included
We're including the cables you need to get the job done, and an incredibly easy way to store them for later. Includes Lightning, Micro USB, USB-C, and USB-C to USB-C.
Three Ways To Charge The Sherpa

100AC
Recharge from the sun by connecting a compatible solar panel. Charge time is dependent on the size of the solar panel. The Nomad 28 Plus will fully recharge the Sherpa 100AC in about 7-14 hours.

Use included cables to recharge from a USB source in 8 - 10 hours. Fully recharges from the wall in about 3 hours using the Sherpa Power Supply accessory (not included).

Recharge from your car 12V adapter in about 3-5 hours.
Tech Specs
Charge Times
USB-C PD (60W): 2.5 hrs
Wall Charger (45W): 3 hrs
USB-A (2.4A): 9 hrs
Nomad 14: 12-28 hrs
Nomad 28: 6-14 hrs
Boulder 50: 4-8 hrs
General
Product SKU: 22050
Weight: 2.0 lbs
Dimensions: 7.5 x 1.0 x 5.68 in (19.0 x 2.54 x 14.4 cm)
Operating usage temp: 32-104F (0-40C)
Certifications: CE FCC RoHS
Warranty: 12 months
Ports
Wireless Qi (output): 5W max
USB-A: 5V, up to 2.4A (12W max), regulated
USB-C PD ports (input/output): 5V, 9V, 12V, 15V, 20V up to 3A (60W max), regulated
AC inverter (output): 110V, up to 0.9A (100W max), 60Hz, modified sine wave
Charging port (input, 8mm): 14-22V (50W max)
Battery Details
Cell chemistry: Li-ion
Pack Capacity: 94.7Wh (14.8V, 6400mAh)
Single Cell Equivalent Capacity: 25600mAh @ 3.7V
Shelf-life: Charge every 3-6 months
Management system: Charging and low-battery protection built-in